Note to Denmark: It is 0, not -40
Since about the beginning of October, I've noticed that little children have been toddling along hand-in-hand with their parents, or confined to cadillac style dan-child caskets that pass for baby carriages here, stuffed into puffy one-piece snowsuits.
The average temperature in October was somewhere around +13
Why on earth do you think it is necessary to wrap up your children like mummies as if they will die from shock at the cold, when it has been plus freaking thirteen all of October?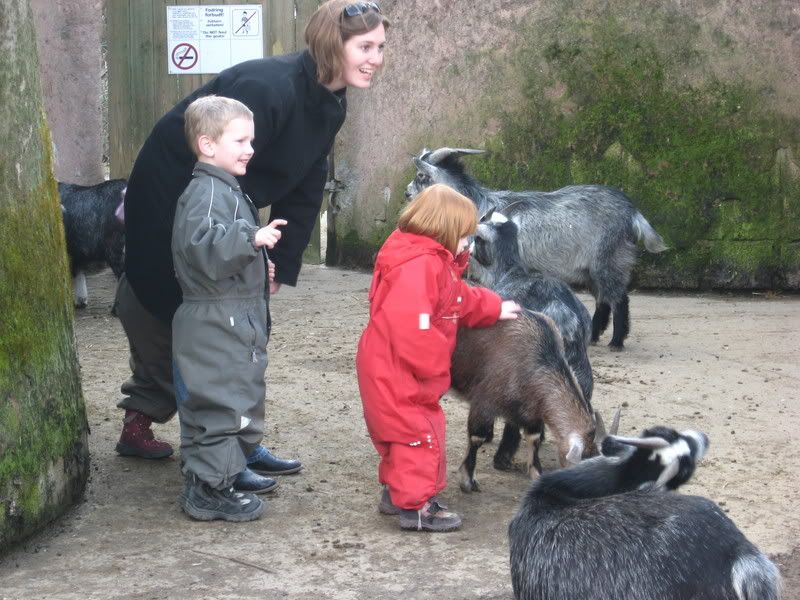 The sign reads: "All børns must be stupified by overheating before entering the petting zoo."
"I am going to be a problem child."
"I LOVE MY BROWN THERMO-COVERALLS ALL YEAR ROUND!"
Snowsuits, and I don't know if you know this, are typically worn in conditions where the following are present:
-snow
-severe cold
It seems to me rather extreme that all children, uniformly, from age 0-10 have been swaddled in polyfill/goretex snowsuits as if we are living in.... I don't know.... in a place where the ambient air temperature is hovering around -20.
That would be Edmonton, and I'm pretty sure that the children there *still* aren't wearing snowsuits. And certainly not one-piecers. LOL!
I should mention: there's also an adult version of these charming relics of the 1980's, still available in original colors. I saw a guy the other day walking about unhampered in his grey/teal with neon orange details snowsuit. He would certainly have been heckled into a whimpering pile if he was in Canada. I'm sad to say then that this habit of over-dressing for the weather continues into adulthood. The rain pants and rain ponchos-over-the-handlebars was bad enough.... now we have otherwise 'normal' adults tying the arms of their one-piecers around their waists at school.
This may be a method to detract from the furry russian hats they all wear to protect themselves from the SEVERE COLDNESS of +2C.
"It is REALLY COLD right now!!!! In this severely cold wintry weather, the only thing I can do is hike my pants up super high and put on my favorite svetlana. HAREM JEANS FOREVERRRRRRRR!"
"The fur of my jacket smells of rotten jam."
It's highly disturbing.
It is not weather appropriate.
Please stop NOW.